Powertrac 245/45R18 Cityracing
RM375.00
Four wide circumferential tread grooves deliver the ride stability and offer excellent performance on wet Improved grooves and bead profile design offer better ride stability, endurance and handling performance.
Continuous tread blocks on both shoulder give great support to enhance the stability when cornering, the closed shoulders deliver excellent quiet ride.
Continuous solid center rib sand lateral tread blocks connected by rib-in-chain enhance steering stability, decrease block deformation and reduce energy loss.
Special tread compound delivers excellent grip on both dry and wet roads and offer longer mileage
Categories: Cityracing, 2.0 TFSI, 2.0 TFSI Quattro, 245/45ZR18, 3.0 TFSI Quattro, 5 Series F10 LCI 2013-2018, 520d M Sport, 520d Sport, 520i, 520i M Sport, 528i M Sport (2014-2015), 6 Series Convertible F12 2011-2018, 6 Series Coupe F13 2011-2018, 6 Series Gran Coupe F06 2012-2015, 640i Convertible, 640i Coupe, 640i Gran Coupe, A6 4G 2013-2015, A6 4G Facelift 2015-2018, ActiveHybrid 5, Audi, BMW, E 200 Avantgarde, E 200 Coupe AMG Line, E-Class Coupe C238 2017-2019, E-Class W213 2016-2019, Mercedes-Benz, Powertrac, Tyre, V 220d AMG Line (6-seater) (2018), V 220d Avantgarde, V-Class W447 (2015-2019)
Report Abuse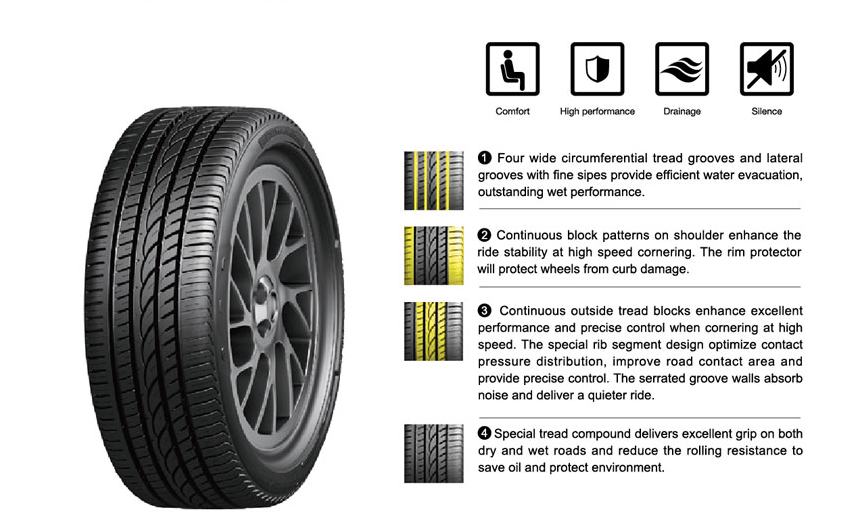 Four wide circumferential tread grooves and lateral grooves with line sipes provide eiflcient water evacuation,outstanding wet performance.
Continuous block patterns on shoulder enhance the ride stability at high speed cornering. The rim protector will protect wheels from curb damage.
Continuous outside tread blocks enhance excellent performance and precise control when cornering at high speed. The special rib segment design optimize contact pressure distribution. improve road contact area and provide precise control. The serrated groove wals absorb noise and deliver a quieter ride.
Special tread compound delivers excellent grip on both dry and wet roads nd reduce the rolling resistance to save oil and protect environment.
Ready to ship in 3-5 business days
---
Vendor Information
Store Name:

Klinikar.com

Vendor:

Klinikar
Address:

Selangor

No ratings found yet!